The fastest way to get up and running collecting and organizing your thoughts is RamSync. This quick start guide will highlight the key features, as quickly as possible, to ensure you have all the tools at your fingertips! Ready? Set? Go!
If you haven't signed up already, see our guide on Creating an Account!
The video tutorial below walks through some of the key RamSync features, or if you prefer you can read about the time saving and organization-bosting features below!
Collections
Collections are groups of notes. Self-contained, Collections can be shared with others for better collaboration.
The (+) in the top right adds a new collection.
Notes
Where the magic happens. Thoughts, musings, ideas, and topics.
Notes should be stand-alone topics, self contained. No two Notes can share the same Title in one Collection. Note length is currently capped at 20480 characters of HTML text.
The (+) in the top right adds a new note.
@ Connections
The secrete sauce. Ideas need to be connected to other ideas. This is where creativity flourishes and learning happens.
Any note can be connected to another idea by typing "@", followed by the Note title.
Add descriptions to a connection to unleash even more power and take your Zettelkasten to the next level. These descriptions appear on the Graph view, improving mind maps and diagrams.
@@ Bi-Directional Connections/Backlinks
Backlinks, or Bi-directional connections are a snap in RamSync! No need to even open both notes.
Simply type "@@" and the referenced note. RamSync will automatically create connections in both notes!
Remember, a single "@" makes one connection. Two "@@" makes two connections, one in each direction! Once created, update either connection independently for complete flexibility.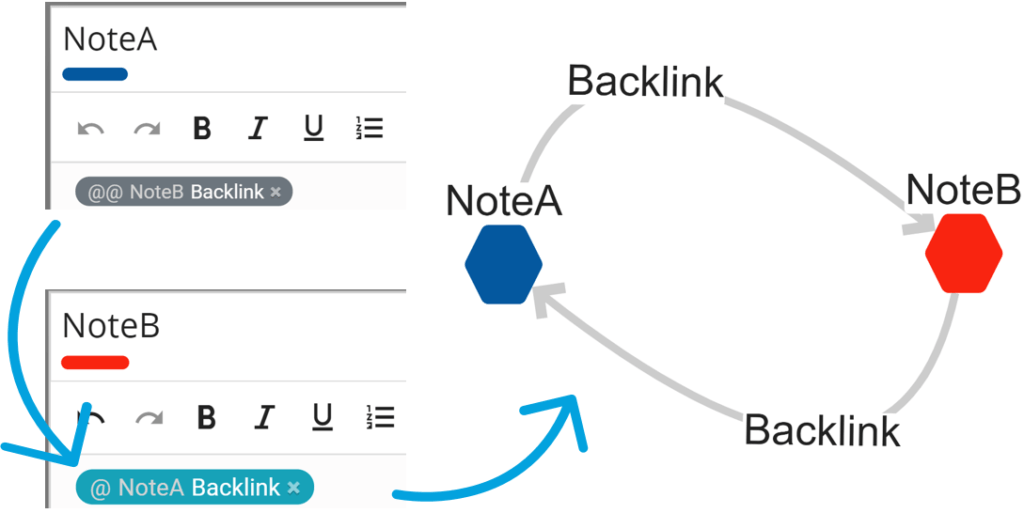 #Hashtags
#Tags, a note organization superpower! Perfect for Note keywords and categories.
Use a standard "#" to create a hashtag, or assign one to any note. Then hit "enter" to lock in the tag!
Hashtags are easily searched, and show up on the front of tile view of Notes for faster organization.
@@@ Embedded Notes
Some things go together, like sandy beaches and sun. Or mitochondria and the powerhouse of a cell. In these cases, embedding one Note inside of another just makes sense.
Embed one note in another keeps ideas structured, organized, and ensures each topic relates to other topics perfectly, every time.
To embed a Note, type "@@@" and the Note title, RamSync does the rest.
There is no limit to the number of embedded Notes, or how many times a single note can be referenced in other Notes.
Chaining Notes
When one Note has a Connection to another note, Chaining becomes possible!
Click the chevron on the top right of a Note tile to show all connected notes. Revert back to the Note tile grid view by selecting the breaking chain icon.
Graph View/Mind Maps
Create powerful automatic mind maps with the graph view! Turn a collection of notes into a knowledge graph instantly, and then structure with pre-built mathematical views, or modify any arrangement to fit your needs.
Select the graph icon in the top right of a collection to open Graph View
Once the graph is perfect, easily download a PNG.
Colors/Icon/Stars
Organization at your fingertips! Easily find and filter notes based on icons and colors.
Add up to 3 colors to any note. The first color is the color that appears in Graph View.
Add a star to the any Note to have it automatically sort to the top of the Collection. This is recommended for Foundation Notes; these Notes often make up the key structures of any Collection and are Connected to many other Notes.
Sharing Collections
More brains are better than one! Easily share entire collections to unleash the power of teamwork.
Owner: The individual in charge of a Collection, full permissions. Only one owner is possible per collection.
Editor: Full collection permissions.
Viewer: Can look, but cannot make any updates or edits.
Public Sharing
Any collection can be made public with the click of a button.
Share ideas, mind maps, and insights with a URL.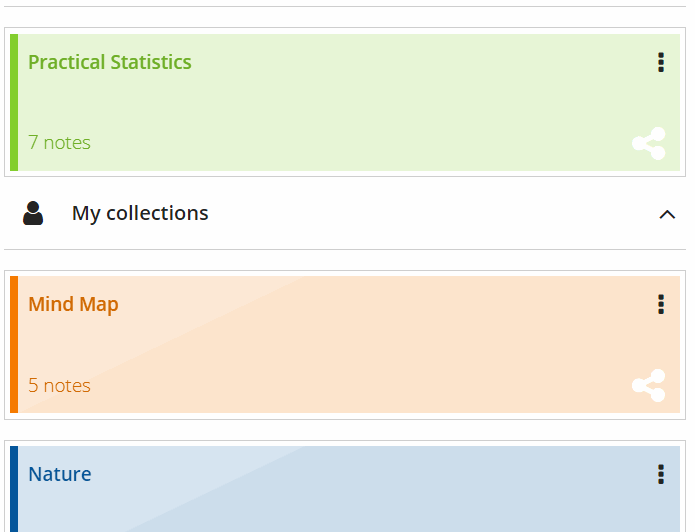 Access Note Connections in any View
RamSync offers multiple editing views to match your personal style. No matter the view, you have complete control to easily access any connected Note.
Simply click the corresponding Note to open the editor.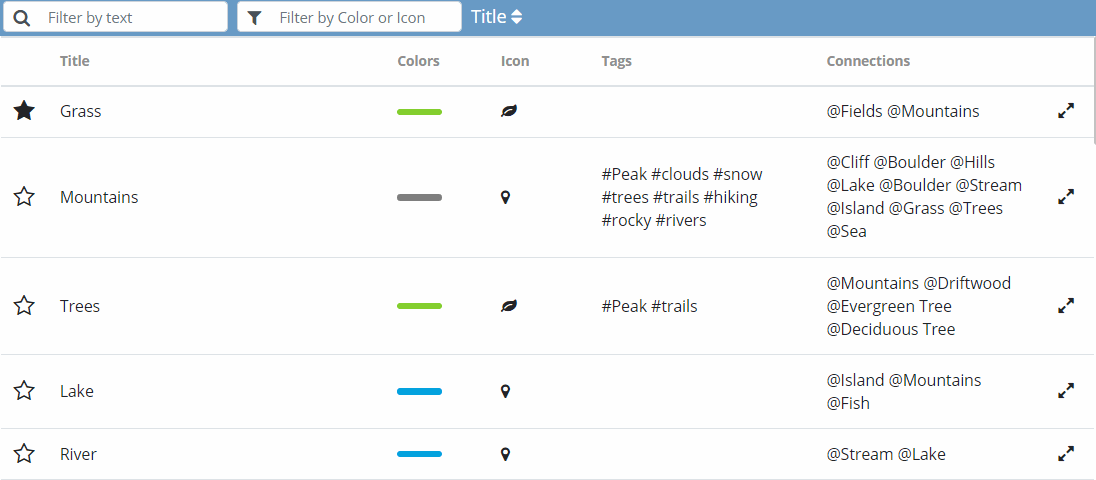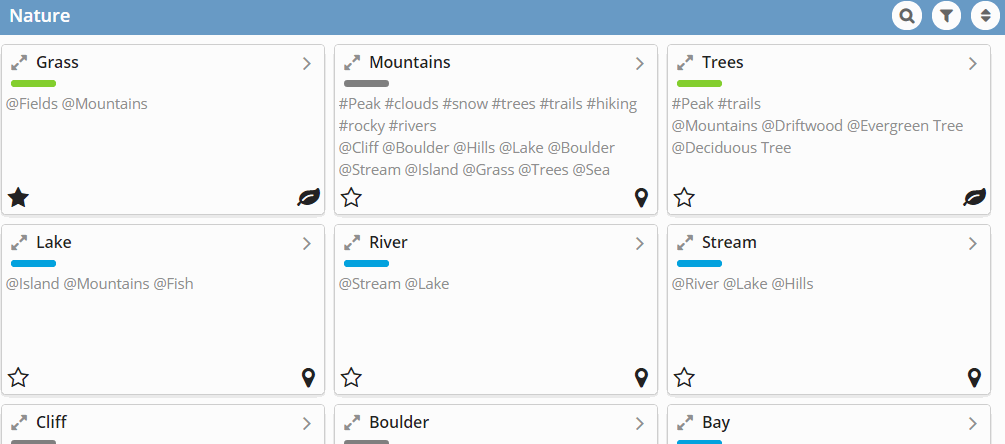 Night Mode
Sometimes we all like a little change. Try the Night Mode (aka Dark Mode) view in RamSync!
Open the left menu and select the toggle. Enjoy!
Export Your Collection (pending)
We believe your Notes belong to you, and you should always have access to your ideas.
Download an entire collection by opening the left-menu and clicking "Download Collection."
The TXT file will have all of your notes in JSON format. Perfect for backups.
Bulk Note Creation
RamSync is the first tool (that we know of) to allow the bulk creation of connected notes and Mind Maps from a CSV file! It is the fastest way to start building knowledge structures.
Simply upload the file then start to add note text, icons, colors and #hashtags to optimize your Collection.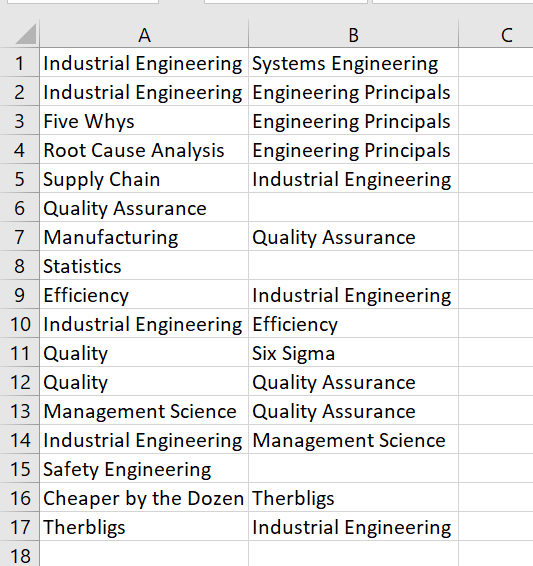 Learn More
Hungry for more? Interested in the how to structure your Notes to connect thoughts and learn faster? Check out Dr. Christina's Ontology of RamSync Notes blog post!